Press release
To all the press
April 22, 2022
Jasmy Incorporated
Bridging the on-chain and off-chain world with privacy: Jasmy begins discussion to integrate with Mystiko.Network to protect user data privacy in the realm of IoT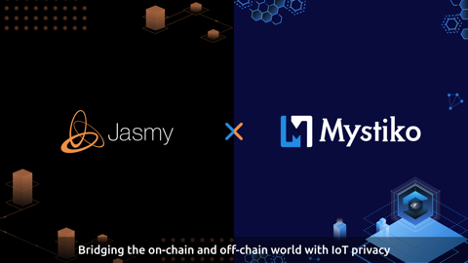 Jasmy is excited to work with Mystiko.Network and to empower user privacy in the world of IoT.
With the blooming volume of mini computers in various forms connecting to the Internet, the world is heading towards a new era of connected hardware and services at an unprecedented rate. It is predicted that there will be 41.6 billion IoT devices by 2025. Additionally, the exponential increase in data would be close to 80 billion terabytes per year - these data may contain both private and behavioral data, which once aggregated and analyzed, can be highly valuable. In the Web3 world, consumers will no longer want to let a few powerful platform companies control the usage of their personal and behavioral data
At Jasmy, we believe that the users should have control over when, how, and by who their data is used - only when users are given full control and transparency of their data, will users start being comfortable with sharing their data and make the IoT communication efficient, private and secure.
However, user data privacy isn't ideal in web2 and user data never really belongs to the users - users have to "trust" a particular company/platform to handle their private data properly and transparently, but in some cases, user data is often exploited.
To enable effective and secure communication of IoTs, we shall create a network with these three key features:
1.Anonymity
2.Transparency
3.Traceability
Jasmy is dedicated to ensure data privacy and security of IoT at scale. Jasmy is working on a scaling solution to pass encrypted data between anonymous users of IoTs without revealing messages to intermediaries; and has designed a IoT chip to enable IoT devices with low processing power to take advantage of the blockchain platform.
Integrating with Mystiko.Network, a zk-based multi-chain privacy SDK, Jasmy will be able to authenticate users and devices without having to share private data to the communication network, and make IoT data truly secure and private to users. Jasmy's focus on and belief in the high level of security and privacy on IoT is well aligned with Mystiko Network's low-cost and multichain privacy solutions. Especially, the multi-chain compatibility and low-cost privacy solutions of Mystiko.Network will make IoT possible and accessible for all. Although the new Web3 world for IoT has just begun, we look forward to solving IoT privacy and security issues with companies like Mystiko Network.
About Mystiko.Network
Mystiko.Network is the base layer of web3 with both connectivity and confidentiality. Leveraging zero knowledge proof with industry leading "zk of zk" technology, Mystiko.Network guarantees interoperability, scalability and privacy, all at once.
Learn more about Mystiko. Network and follow us:
Website Wallet Twitter Telegram Discord Medium Whitepaper Docs
About Jasmy
Jasmy Incorporated develops and offers an IoT platform based on Blockchain. The mission of Jasmy is to create and provide a platform that allows anyone to use IoT devices easily, safely, and free of worries. Jasmy aims to realize Data Democracy by building a decentralized, democratic world where data is protected as inherently owned by each individual.